---
---
de.lmu.ifi.dbs.elki.algorithm.outlier.meta
Class ExternalDoubleOutlierScore

java.lang.Object
  de.lmu.ifi.dbs.elki.algorithm.AbstractAlgorithm<OutlierResult>
      de.lmu.ifi.dbs.elki.algorithm.outlier.meta.ExternalDoubleOutlierScore

All Implemented Interfaces:
---
public class ExternalDoubleOutlierScore

extends AbstractAlgorithm<OutlierResult>

implements OutlierAlgorithm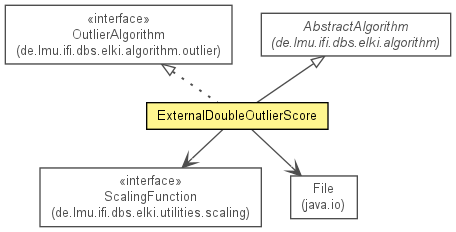 External outlier detection scores, loading outlier scores from an external file.
---
Methods inherited from class java.lang.Object
clone, equals, finalize, getClass, hashCode, notify, notifyAll, toString, wait, wait, wait
logger

private static final Logging logger
The logger for this class.
---
COMMENT

public static final String COMMENT
The comment character.

See Also:
---
ID_PATTERN_DEFAULT

public static final String ID_PATTERN_DEFAULT
The default pattern for matching ID lines.

See Also:
---
file

private File file
The file to be reparsed
---
idpattern

private Pattern idpattern
object id pattern
---
scorepattern

private Pattern scorepattern
object score pattern
---
scaling

private ScalingFunction scaling
Scaling function to use
---
inverted

private boolean inverted
Inversion flag.
ExternalDoubleOutlierScore

public ExternalDoubleOutlierScore(File file,
                                  Pattern idpattern,
                                  Pattern scorepattern,
                                  boolean inverted,
                                  ScalingFunction scaling)
Constructor.

Parameters:

file - File to load
idpattern - Pattern to match IDs
scorepattern - Pattern to match scores with
inverted - Inversion flag
scaling - Score scaling function
run

public OutlierResult run(Database database,
                         Relation<?> relation)
Run the algorithm.

Parameters:

database - Database to use
relation - Relation to use

Returns:

Result
---
getLogger

protected Logging getLogger()
Description copied from class: AbstractAlgorithm
Get the (STATIC) logger for this class.

Specified by:

getLogger in class AbstractAlgorithm<OutlierResult>

Returns:

the static logger
---
getInputTypeRestriction

public TypeInformation[] getInputTypeRestriction()
Description copied from class: AbstractAlgorithm
Get the input type restriction used for negotiating the data query.

Specified by:

getInputTypeRestriction in interface Algorithm

Specified by:

Returns:

Type restriction
---
---