---
---
de.lmu.ifi.dbs.elki.utilities.xml
Class XMLNodeListIterator

java.lang.Object
  de.lmu.ifi.dbs.elki.utilities.xml.XMLNodeListIterator

---
public final class XMLNodeListIterator

extends Object

implements IterableIterator<Node>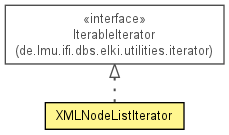 Simple adapter class to iterate over a DOM tree nodes children.
---
Method Summary
boolean
hasNext()
Check if the next node is defined.
Iterator<Node>
iterator()
Iterable interface adapter - clone.
Node
next()
Return next and advance iterator.
void
remove()
Removal: unsupported operation.
Methods inherited from class java.lang.Object
clone, equals, finalize, getClass, hashCode, notify, notifyAll, toString, wait, wait, wait
index

private int index
Store the next node
---
nodelist

private NodeList nodelist
The NodeList to iterate over.
XMLNodeListIterator

public XMLNodeListIterator(NodeList nl)
Constructor with first element to iterate over.

Parameters:

nl - NodeList to iterate over.
hasNext

public boolean hasNext()
---
next

public Node next()
---
remove

public void remove()
---
iterator

public Iterator<Node> iterator()
---
---