---
---
de.lmu.ifi.dbs.elki.algorithm.statistics
Class EvaluateRankingQuality<V extends NumberVector<V,?>,D extends NumberDistance<D,?>>

java.lang.Object
  de.lmu.ifi.dbs.elki.algorithm.AbstractAlgorithm<R>
      de.lmu.ifi.dbs.elki.algorithm.AbstractDistanceBasedAlgorithm<V,D,CollectionResult<DoubleVector>>
          de.lmu.ifi.dbs.elki.algorithm.statistics.EvaluateRankingQuality<V,D>

Type Parameters:

V - Vector type
D - Distance type
All Implemented Interfaces:
---
@Title(value="Evaluate Ranking Quality")
@Description(value="Evaluates the effectiveness of a distance function via the obtained rankings.")
public class EvaluateRankingQuality<V extends NumberVector<V,?>,D extends NumberDistance<D,?>>

extends AbstractDistanceBasedAlgorithm<V,D,CollectionResult<DoubleVector>>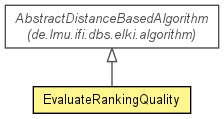 Evaluate a distance function with respect to kNN queries. For each point, the neighbors are sorted by distance, then the ROC AUC is computed. A score of 1 means that the distance function provides a perfect ordering of relevant neighbors first, then irrelevant neighbors. A value of 0.5 can be obtained by random sorting. A value of 0 means the distance function is inverted, i.e. a similarity. In contrast to RankingQualityHistogram, this method uses a binning based on the centrality of objects. This allows analyzing whether or not a particular distance degrades for the outer parts of a cluster. TODO: Allow fixed binning range, configurable TODO: Add sampling
---
Methods inherited from class java.lang.Object
clone, equals, finalize, getClass, hashCode, notify, notifyAll, toString, wait, wait, wait
logger

private static final Logging logger
The logger for this class.
---
HISTOGRAM_BINS_ID

public static final OptionID HISTOGRAM_BINS_ID
Option to configure the number of bins to use.
---
numbins

int numbins
Number of bins to use.
EvaluateRankingQuality

public EvaluateRankingQuality(DistanceFunction<? super V,D> distanceFunction,
                              int numbins)
Constructor.

Parameters:

distanceFunction -
numbins -
run

public HistogramResult<DoubleVector> run(Database database)
                                  throws IllegalStateException
Run the algorithm.

Specified by:

Overrides:

run in class AbstractAlgorithm<CollectionResult<DoubleVector>>

Parameters:

database - the database to run the algorithm on

Returns:

the Result computed by this algorithm

Throws:

IllegalStateException - if the algorithm has not been initialized properly (e.g. the setParameters(String[]) method has been failed to be called).
---
getInputTypeRestriction

public TypeInformation[] getInputTypeRestriction()
Description copied from class: AbstractAlgorithm
Get the input type restriction used for negotiating the data query.

Specified by:

getInputTypeRestriction in interface Algorithm

Specified by:

Returns:

Type restriction
---
getLogger

protected Logging getLogger()
Description copied from class: AbstractAlgorithm
Get the (STATIC) logger for this class.

Specified by:

getLogger in class AbstractAlgorithm<CollectionResult<DoubleVector>>

Returns:

the static logger
---
---