---
---
de.lmu.ifi.dbs.elki.visualization.visualizers.visunproj
Class ClusterEvaluationVisFactory

java.lang.Object
  de.lmu.ifi.dbs.elki.visualization.visualizers.AbstractVisFactory
      de.lmu.ifi.dbs.elki.visualization.visualizers.visunproj.ClusterEvaluationVisFactory

All Implemented Interfaces:
---
public class ClusterEvaluationVisFactory

extends AbstractVisFactory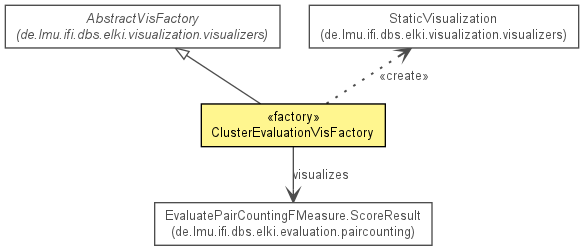 Pseudo-Visualizer, that lists the cluster evaluation results found.
---
Field Summary
private static String
NAME
Name for this visualizer.
Methods inherited from class java.lang.Object
clone, equals, finalize, getClass, hashCode, notify, notifyAll, toString, wait, wait, wait
NAME

private static final String NAME
Name for this visualizer.

See Also:
ClusterEvaluationVisFactory

public ClusterEvaluationVisFactory()
Constructor.
processNewResult

public void processNewResult(HierarchicalResult baseResult,
                             Result newResult)
Description copied from interface: VisFactory
Add visualizers for the given result (tree) to the context.

Parameters:

baseResult - Context to work with
newResult - Result to process
---
makeVisualization

public Visualization makeVisualization(VisualizationTask task)
Description copied from interface: VisFactory
Produce a visualization instance for the given task

Specified by:

makeVisualization in interface VisFactory

Specified by:

makeVisualization in class AbstractVisFactory

Parameters:

task - Visualization task

Returns:

Visualization
---
allowThumbnails

public boolean allowThumbnails(VisualizationTask task)
Description copied from class: AbstractVisFactory
Test whether to do a thumbnail or a full rendering. Override this with "false" to disable thumbnails!

Overrides:

allowThumbnails in class AbstractVisFactory

Parameters:

task - Task requested
---
---