---
---
de.lmu.ifi.dbs.elki.utilities.iterator
Class AbstractFilteredIterator<IN,OUT extends IN>

java.lang.Object
  de.lmu.ifi.dbs.elki.utilities.iterator.AbstractFilteredIterator<IN,OUT>

Type Parameters:

IN - Input type
OUT - Output type
All Implemented Interfaces:

Iterator<OUT>
Direct Known Subclasses:
---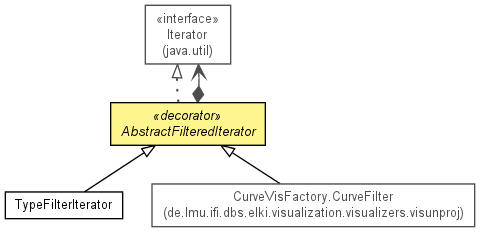 Abstract class to build filtered views on Iterables.
---
Field Summary
(package private) Iterator<IN>
itr
The iterator to use.
(package private) OUT
nextobj
The next object to return.
Methods inherited from class java.lang.Object
clone, equals, finalize, getClass, hashCode, notify, notifyAll, toString, wait, wait, wait
itr

Iterator<IN> itr
The iterator to use.
---
nextobj

OUT extends IN nextobj
The next object to return.
AbstractFilteredIterator

public AbstractFilteredIterator()
Constructor.
init

protected void init()
Init the iterators
---
getParentIterator

protected abstract Iterator<IN> getParentIterator()
Get an iterator for the actual data. Used in initialization.

Returns:

iterator
---
testFilter

protected abstract OUT testFilter(IN nextobj)
Test the filter predicate for a new object.

Parameters:

nextobj - Object to test

Returns:

cast object when true, null otherwise
---
updateNext

private void updateNext()
Find the next visualizer.
---
hasNext

public boolean hasNext()
---
next

public OUT next()
---
remove

public void remove()
---
---