---
---
de.lmu.ifi.dbs.elki.result
Class AbstractHierarchicalResult

java.lang.Object
  de.lmu.ifi.dbs.elki.result.AbstractHierarchicalResult

All Implemented Interfaces:
Direct Known Subclasses:
---
public abstract class AbstractHierarchicalResult

extends Object

implements HierarchicalResult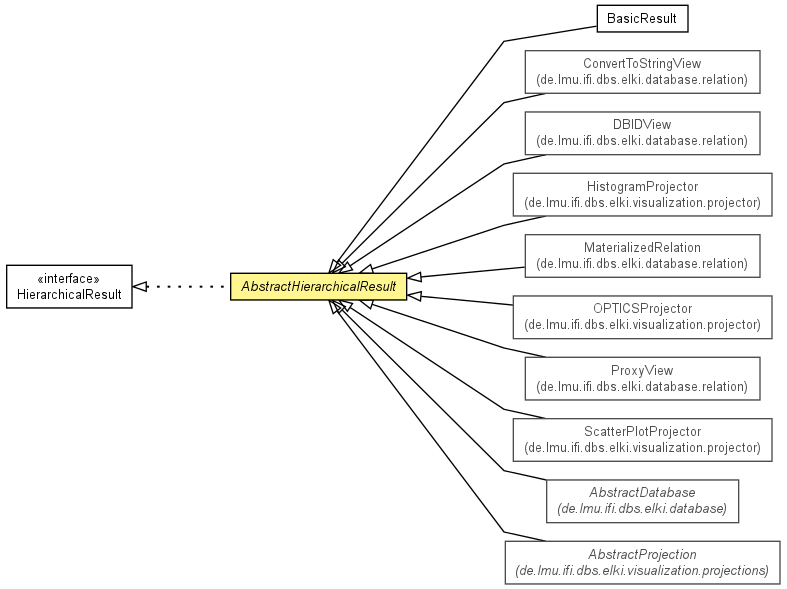 Abstract class for a result object with hierarchy
---
Methods inherited from class java.lang.Object
clone, equals, finalize, getClass, hashCode, notify, notifyAll, toString, wait, wait, wait
hierarchy

private ResultHierarchy hierarchy
The hierarchy storage.
AbstractHierarchicalResult

public AbstractHierarchicalResult()
Constructor.
getHierarchy

public final ResultHierarchy getHierarchy()
Description copied from interface: HierarchicalResult
Get the objects current hierarchy - may be null!

Specified by:

getHierarchy in interface HierarchicalResult

Returns:

current hierarchy. May be null!
---
setHierarchy

public final void setHierarchy(ResultHierarchy hierarchy)
Description copied from interface: HierarchicalResult
Set (exchange) the hierarchy implementation (e.g. after merging!)

Specified by:

setHierarchy in interface HierarchicalResult

Parameters:

hierarchy - New hierarchy
---
addChildResult

public void addChildResult(Result child)
Add a child result.

Parameters:

child - Child result
---
---