---
---
de.lmu.ifi.dbs.elki.evaluation.paircounting
Class EvaluatePairCountingFMeasure

java.lang.Object
  de.lmu.ifi.dbs.elki.evaluation.paircounting.EvaluatePairCountingFMeasure

All Implemented Interfaces:
---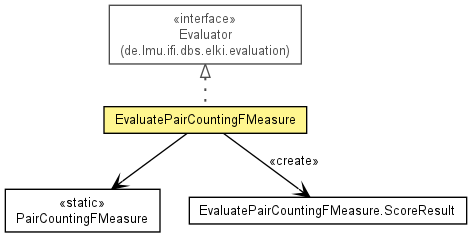 Evaluate a clustering result by comparing it to an existing cluster label.
---
Methods inherited from class java.lang.Object
clone, equals, finalize, getClass, hashCode, notify, notifyAll, toString, wait, wait, wait
logger

protected static final Logging logger
Logger for debug output.
---
REFERENCE_ID

public static final OptionID REFERENCE_ID
Parameter to obtain the reference clustering. Defaults to a flat label clustering.
---
NOISE_ID

public static final OptionID NOISE_ID
Parameter flag for special noise handling.
---
referencealg

private ClusteringAlgorithm<?> referencealg
Reference algorithm.
---
noiseSpecialHandling

private boolean noiseSpecialHandling
Apply special handling to noise "clusters".
EvaluatePairCountingFMeasure

public EvaluatePairCountingFMeasure(ClusteringAlgorithm<?> referencealg,
                                    boolean noiseSpecialHandling)
Constructor.

Parameters:

referencealg - Reference clustering
noiseSpecialHandling - Noise handling flag
processNewResult

public void processNewResult(HierarchicalResult baseResult,
                             Result result)
Description copied from interface: ResultProcessor
Process a result.

Specified by:

processNewResult in interface ResultProcessor

Parameters:

baseResult - The base of the result tree.
result - Newly added result subtree.
---
---