---
---
de.lmu.ifi.dbs.elki.algorithm
Class AbstractPrimitiveDistanceBasedAlgorithm<O,D extends Distance<D>,R extends Result>

java.lang.Object
  de.lmu.ifi.dbs.elki.algorithm.AbstractAlgorithm<R>
      de.lmu.ifi.dbs.elki.algorithm.AbstractPrimitiveDistanceBasedAlgorithm<O,D,R>

Type Parameters:

O - the type of objects handled by this Algorithm
D - the type of Distance used by this Algorithm
R - the type of result to retrieve from this Algorithm
All Implemented Interfaces:
Direct Known Subclasses:
---
public abstract class AbstractPrimitiveDistanceBasedAlgorithm<O,D extends Distance<D>,R extends Result>

extends AbstractAlgorithm<R>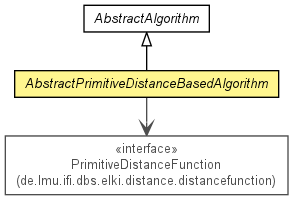 Provides an abstract algorithm already setting the distance function. This class only allows distances that are defined on arbitrary objects, not only database objects!
---
Methods inherited from class java.lang.Object
clone, equals, finalize, getClass, hashCode, notify, notifyAll, toString, wait, wait, wait
distanceFunction

private PrimitiveDistanceFunction<? super O,D extends Distance<D>> distanceFunction
Holds the instance of the distance function specified by AbstractDistanceBasedAlgorithm.DISTANCE_FUNCTION_ID.
AbstractPrimitiveDistanceBasedAlgorithm

protected AbstractPrimitiveDistanceBasedAlgorithm(PrimitiveDistanceFunction<? super O,D> distanceFunction)
Constructor.

Parameters:

distanceFunction - Distance function
getDistanceFunction

public PrimitiveDistanceFunction<? super O,D> getDistanceFunction()
Returns the distanceFunction.

Returns:

the distanceFunction
---
---